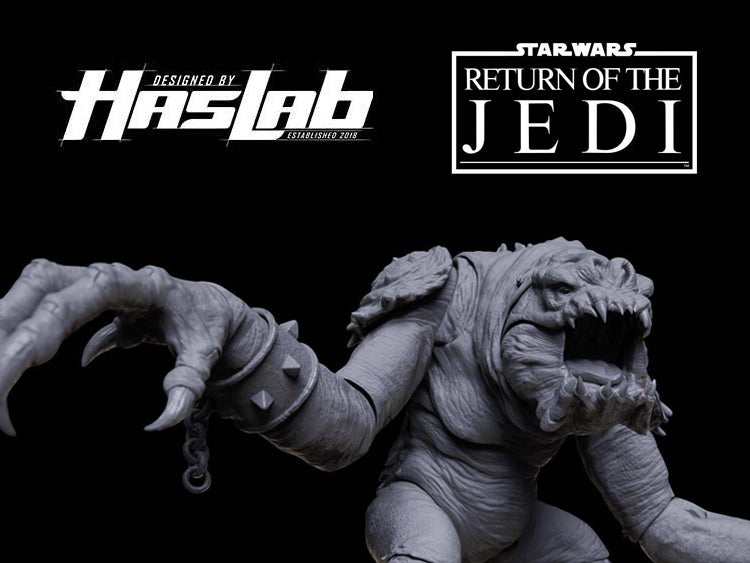 FUNDING ENDS IN...
0
0
:
WEEKS
0
0
:
DAYS
0
0
:
HOURS
0
0
:
MINS
0
0
:
SECS
Classic Film, Iconic Creature
A terrifying and mesmerizing creature, the Rancor is an unforgettable part of the Star Wars galaxy. When the team began to think about The Black Series HasLab project, the Rancor was the undisputed winner. It's even one of our designer's favorite movie monsters of ALL TIME. How could it not be?!!
A ferocious and formidable opponent whose commanding size and brute force strength is enough to rattle even the most powerful Jedi™. And HasLab is the only way to bring the Rancor to you.
Here we have the freedom to breathe new life into classic figures in an extraordinary out-of-the-box way, creating legendary sculpts to add to your collection. Join us by funding this larger-than-life monster now!
To fully fund the project and satiate Rancors' mighty hunger, we need to hit 9,000 backers. And we don't want to stop there. The team has prepared some stretch goals to unlock.
The Specs
• At 42 inches (106.68 cm) long, the Rancor's arm span makes it wider than it is tall, helping recreate his formidable, inescapable presence.

• Its 12.8 inches (32.512 cm) deep (from nose to the back of the figure) and 12 inches (30.48 cm) wide body (from shoulder to shoulder) gives the Rancor substance and durability.

• Standing at 17.5 inches (44.45 cm) tall, the Rancor can stretch its arms up to give it an even more massive height of 27 inches (68.58 cm), allowing fans to replicate any of the fearsome roaring poses seen in Star Wars: Return of the Jedi.

• Over 45 points of articulation, the most ever done in The Black Series, all the way down to its talons. This gives the Rancor the ability to grab The Black Series 6-inch-scale figures in its talons and bring them up to its articulated jaw for a "snack". After which, you may want to adjust the piece of drool by its mouth.

• The Black Series largest figure to ever have Butterfly joints, which allow the Rancor to be posed in just about any of the positions you've seen in Star Wars: Return of the Jedi. They also let the Rancor cross its arms in front of its chest and outstretch them on either side of its body, increasing the menacing display possibilities.

• We've created a new standard in shoulder pad articulation and applied it to the Rancor for the most premium, top-of-the-line figure possible from The Black Series. The Rancor's shoulder pads allow it to maintain its iconic monstrous aesthetic without inhibiting its movement.

• Above and beyond the high-quality sculpt and precise detail work you've come to know and love from The Black Series.

• The Black Series most decorated figure in history with over 900 deco ops!

• Entertainment-inspired details, including the broken shackle and chain on its right wrist. The designers had the privilege of seeing the original prop used in Star Wars: Return of the Jedi up close and in person, so they were able to bring every detail they could to life.
Bring a Piece of Star Wars History Home
Do you remember how it felt the first time you saw the trapdoor of Jabba's palace slide away to reveal the hungry Rancor below, awaiting it's Twi'lek™ snack? Relive that thrilling, heart-pounding moment in Star Wars history by bringing Rancor to life in action figure form. Not just any action figure, but one that's so epic it transports you back to the first time you witnessed this unforgettable monstrosity on the big screen. With all-new craftsmanship and extraordinary detail, the Rancor figure will send you on a nostalgic journey through the galaxy. Level up your collection with this iconic creature and show off your Star Wars fandom. To make this possible we need YOUR help. Join us by funding this mission now!

But the galactic action doesn't stop there… Once we've reached our initial goals to free the Rancor from its prison and go into production, we'll still need your assistance to unlock up to 4 mysterious tiers. Fund them today to find out what they are and jump this project into lightspeed!

There are 4 tier unlocks planned for this HasLab project, the first being at 11k backers, the second being at 13.5k backers. Stay tuned for more info throughout the campaign for more details on what these unlocks will be!

•Tier 1: 11,000 Backers Needed
•Tier 2: 13,500 Backers Needed
•Tier 3: Stay tuned…
•Tier 4: Stay tuned…
TERMS AND CONDITIONS & FAQs
When you back a Crowd-Funded Product, you are making a commitment to purchase the Crowd-Funded Product that will only be fulfilled if the minimum number of backings are met for the project during the Project Backing Period. Each Crowd-Funded Product will have its own duration when you can back the Crowd-Funded Product, each a "Project Backing Period." Once the minimum number of backings is met, your backing becomes an "Order" and your payment is collected at the completion of the Project Backing Period, then the Crowd-Funded Product will be made and ultimately shipped.
You will provide your payment information when you back a Crowd-Funded Product, but you will not be charged at that time. You are only charged if the project reaches the minimum backing goal during the Project Backing Period. The exact amount you back is the amount The Hut Group will collect. If the project has not reached its minimum backing goal during the Project Backing Period, you will not be charged, no funds will be collected, and no money will change hands. Check the main page for the Crowd-Funded Product you backed to see if the minimum commitment goal has been met.
In some cases, we will reserve the charge on your card. The Hut Group and its payment partners may authorize or reserve a charge on your payment method for any amount up to the full backing amount, at any time between your backing and the collection of funds. No payment will be taken before Project Backing Window has ended.
We are currently shipping to all European addresses. Please note we cannot ship to any other country at this time. If you need to make changes to your shipping address after you have purchased, please contact our Customer Care Team via your account.
You can cancel your backing at any time before the completion of the Project Backing Period 6th of December, by following the standard cancellation process through your account, or contacting our customer service team via your account.
You will be charged on the 7th of January 2022 when this Crowd Funded Project has ended. If you need to cancel your order, you must do so within 30 days of the completion of the applicable Project Backing Period by contacting our Customer Service Centre via your account.
You WILL NOT be able to cancel your order after these 30 days.
We reserve the right to revoke your backing at any time in our sole reasonable discretion, including as a result of an actual or suspected violation of these Terms.
If your product arrives damaged due to transit, you may request a return within 30 days of delivery for a replacement or a refund by contacting us via your account. We cannot accept for return or replacement any item that has been opened, unless it arrived damaged. You will be responsible to pay the return shipping costs. All eligible refunds are made to the original form of payment. If your product arrives damaged due to transit or fails to comply in all material respects with the specifications for the product, please contact.

If you need to make changes to your order e.g. card details or shipping address, please contact our Customer Care Team via your account.